Wood Fireplaces
You may have heard: "you can't burn wood in Denver," this is incorrect. Since 1990, fireplaces have been categorized by whether or not they are EPA-Certified as producing low emissions. To be installed in the 6-County Denver Metro—area as well as Jefferson and all of Clear Creek County—a fireplace must either be EPA-Certified or have a gas log set installed in the firebox. Modern wood-burners can be installed directly onto a plywood base and are ideal for installation during new construction or remodeling projects. As with all hearth appliances, the ceramic glass in the door radiates the largest percentage of heat in the room but additional heat is available from a heat-circulating blower system with most appliances. When it comes to quantifying the size of a wood fireplace the best method by the capacity of the firebox. Firebox volumes range from about 2.2cu. ft.-4.4cu. ft. and the length of log that the firebox can accommodate ranges from 18in-32in. Click here to see wood-burning fireplaces in our showroom.

In our showroom, we display five models of wood fireplaces from Fireplace Xtrordinair, Hearthstone and RSF and are also dealers for other brands such as Osburn and Kozy Heat.
For tips on how to more efficiently use your wood fireplace click here.
· Wood Fireplace - up to 76,700 BTU
· Artisan Custom Front
· 32" Logs
· Optional Heat-Circulating blower
· Optional Outside Air Kit
· Hand Hammered Front
· Double Door Design
‧ Wood Fireplace - 50,000 BTU
‧ 2.6 cu ft Firebox
‧ 22" Logs
‧ Steel door
‧ Available as a See-thru Model
‧ Optional heat-circulating blower
‧ Optional CleanFace design
‧ Wood Fireplace - 70,000 BTU
‧ Clean Face Kit
‧ 3.6 cu ft Firebox
‧ 18" Logs
‧ Fan
‧ Cast iron door – choice of 3 colors
‧ Optional heat-circulating blower
‧ Most Popular Wood Fireplace
Hearthstone Montgomery 100 Model 8420
‧ Wood Fireplace - 95,000 BTU
‧ Black Matte
‧ 4.28 cu ft Firebox
‧ 25" Logs
‧ Optional heat-circulating blower
‧ Cast Iron Faceplate
‧ Double-door design
‧ Ledgestone interior panel
‧ Choice of Black or Brown Enamel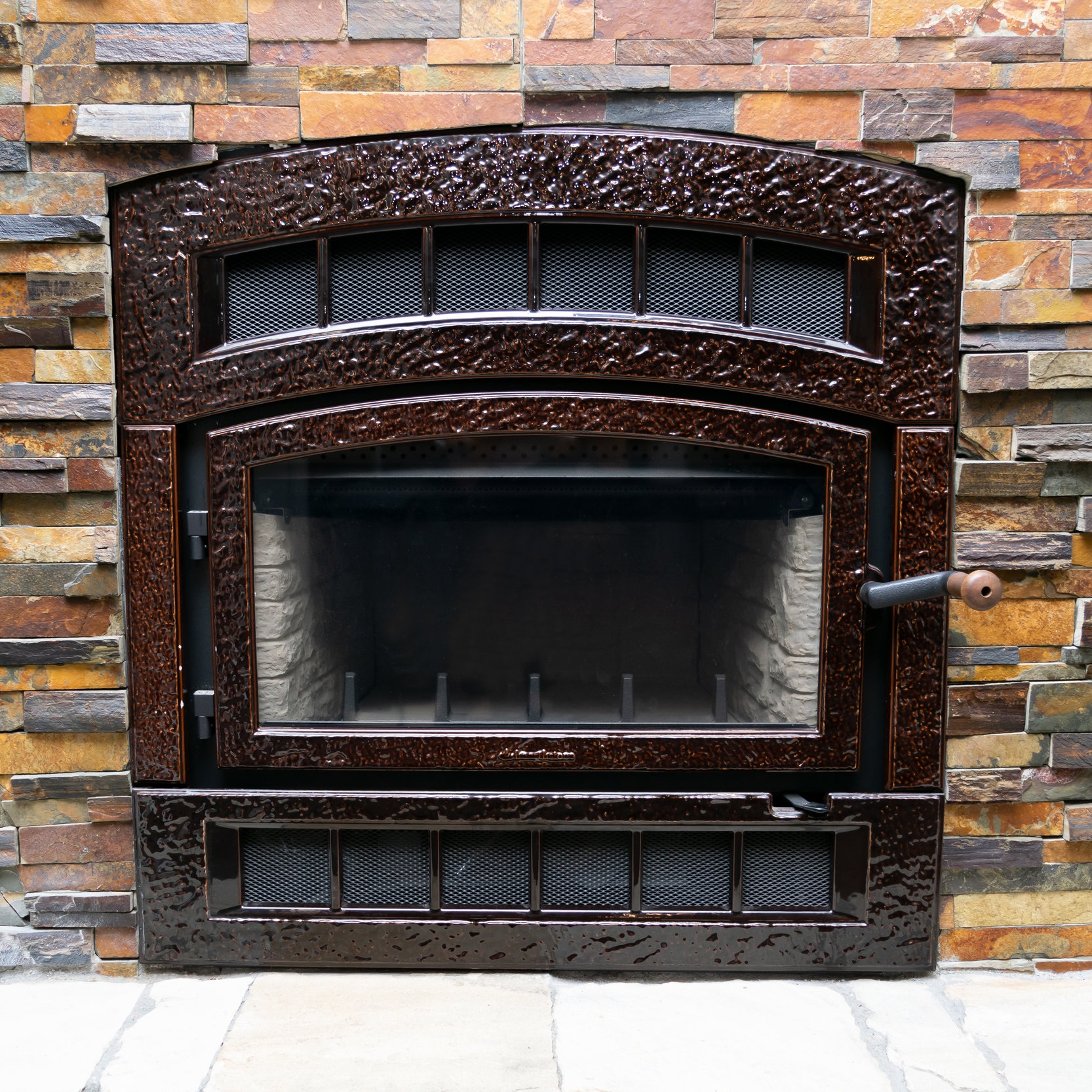 Hearthstone Montgomery 75
‧ Wood Fireplace - 75,000 BTU
‧ Brown Majolica Enamel
‧ 2.5 cu ft Firebox
‧ 20" Logs
‧ Optional heat-circulating blower
‧ Cast Iron Faceplate
‧ Single-door design
‧ Ledgestone interior panel
‧ Choice of Black or Brown Enamel
LIKE WHAT YOU SEE?
If you like what you see or want something a little different, we can help. As dealers for several leading brands of wood-burning fireplace manufacturer, we have many fireplace options beyond what is in our Evergreen showroom that can be selected and customized to suit your heating needs, design style, and size constraints.
START YOUR Wood FIREPLACE PROJECT TODAY
If you're looking for quality wood-burning fireplace sales and installation, you've come to the right place. Our NFI-Certified showroom staff and installers will put your fireplace project on track and work with you to choose the right hearth appliance for your room and the style for your home. Visit our showroom at 7001 Highway 73 in Evergreen, contact us via the form on our contact page, or give us a call to start your wood fireplace project today!
Why Choose A wood fireplace?
‧ Appearance creates impressive focal point
‧ Cordwood is a naturally occurring renewable resource – Not a fossil fuel
‧ Zone-Heating concept --- Heat where you live
‧ Large variety of sizes
‧ Large variety of styles
‧ Highly efficient
‧ EPA-Certified / Okay to operate on "No-Burn Days"
‧ Large glass viewing area
‧ An alternative fuel source to heat the home
If you're looking for information about how to get the most out of your wood burning appliance or you suspect you may be running your stove inefficiently, the Environmental Protection Agency has a variety of resources in multiple languages to help you. These tip sheets and brochures have everything you need to know about wood burning appliances and selecting the proper fuel for your appliances.